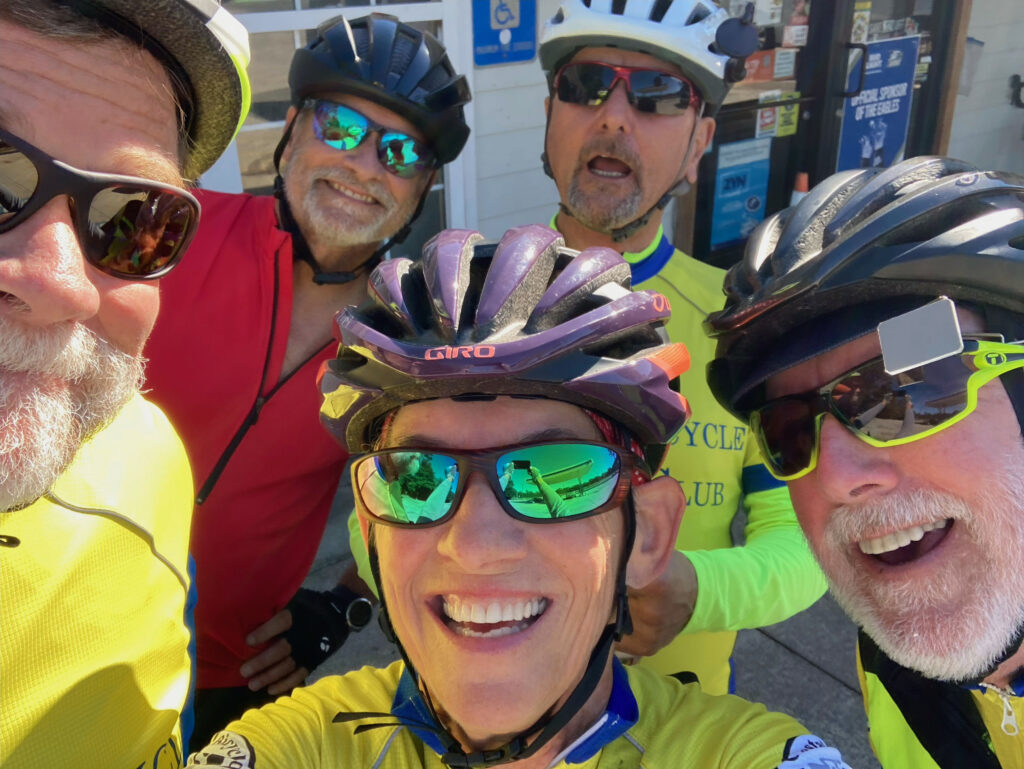 Come join us on one of the rides below. If you are not a member, no problem. Try a ride or two with us. Most rides meet up on Saturday mornings at 8:30AM for a 9AM roll-out, and during the warmer months, we meet around 8:15 AM and roll-out at 8:30. After the ride we join for bite to eat at various venues based on ride location. Call or email if you have a question about the rides or the club.
Ride Coordinator: Kim Turner, 214-725-2490, [email protected]
Note: If there is a ride cancelation due to inclement weather or previously unforeseen events, this website will be updated with the cancellation notice at least 1 1/2 hours before the start of the ride. There will also be an email sent to CBTC members.
All guests must sign a waiver prior to roll-out. The ride leader will have the waiver and ensure riders sign. The waiver is: CBTC Ride Waiver
Saturday, 1 April, 8am, Springfield Revitalization Ride. (Map link) The Springfield DDA welcomes you to Downtown Springfield for a scenic bike ride through Effingham County. The Ride will begin and end in Springfield, at Ulmer Park. We've worked hard over the years to help improve downtown Springfield and proceeds from this annual ride have helped to fund facade grants and beautification projects that have made a huge difference. SWAG bags for all participants will include information about stores, restaurants, and events coming up in downtown. We will be raffling off awesome prizes from our Springfield businesses as well. We hope that this will give you a sample of downtown and that you will come back for a visit!
Saturday, 8 April, 8:30am. Riceboro Ride with Loops. (Map link) Journey south via I-95 or Highway 17 to meet/park at Melody's Coastal Cafe, 34 North Coastal Highway, Midway, GA. This is a new ride route that takes participants on back country roads with various route options, the longest is just a tad under 40 miles. Post-ride eats at Melody's Coastal Cafe. Ride Leader: TBD
Saturday, 15 April, 8:30am. Rincon Ride. (Map link) Meet/park at Macomber Park, 1103 Lexington Street, Rincon, GA. This will be the "James Dasher" route turning right from Lexington and riding some of the same roads as the original Rincon Ride. Post-ride eats and treats at El Real Mexican restaurant, a short distance from Macomber Park, located at 105 Wisenbaker Road, Rincon.
Saturday, 8 April, 8:30am, Ellabell Ride. 39/32/25/17. Ellabell, GA. (Map Link) I-16 W to exit 143, TL on Highway 280 for 2.2 miles, then TR on Wilma Edwards Road for 1.5 miles to Hendrix Park on the left. Park in the center lot in the general area where the gymnasium formerly stood. Typically, riders gather afterwards at Sandra's Seafood restaurant, 4644 Highway 80 East, Ellabell.
Other area rides – non-sponsored by CBTC
Sundays – Islands Ride
Roll-out from the Habersham YMCA at 9AM on Sundays. Approximate 30 mile ride around Burnside Island and Isle of Hope with brisk pace and some sprints. Sometimes the group also rides to Dutch Island. Participants get-together at the Coffee Deli in Habersham Village after the ride. Brisk pace (19-21) with one mondo sprint along Fergurson prior to the rest stop at Jalapeno's Restaurant, Sandfly.
Tuesdays – Skidaway Ride
Roll-out from parking lot of Skidaway United Methodist Church at 9 AM on Tuesdays. 34 mile ride around Skidaway Island. Usually 2 or 3 groups with varying speeds and some sprints. Participants get-together for breakfast on the first Tuesday of each month after the ride. For those brave hearts, there is also a 6am roll-out, yielding 50-60 total miles.
Wednesdays-Isle of Hope meander, aka No Sweat Wednesday
Roll-out from the Sentinent Bean, at the south end of Forsyth Park, 13 E. Park Street, Savannah, 9AM. Meander over to Bonaventure Cemetery, then to and through Thunderbolt before cruising to Isle of Hope for some crazy loops. Semi-easy pace, usual post-ride gathering at either Coffee Deli, Habersham Village or Yia Yia's Kitchen and Marketplace, 3113 Habersham Street.
Thursdays – Hunter Army Air Field Ride
Roll-out from parking lot next to ball fields by Montgomery Street entrance of Hunter Army Air Field at 9:00 AM on Thursdays. A permit from HAAF security staff at Montgomery Street entrance is required to enter base. 20-40 mile ride around base usually with 1 group splitting into 2 groups by speed. Participants meet at Sly's, corner Abercorn & 34th street, for sliders, fries and cool drinks following the ride.