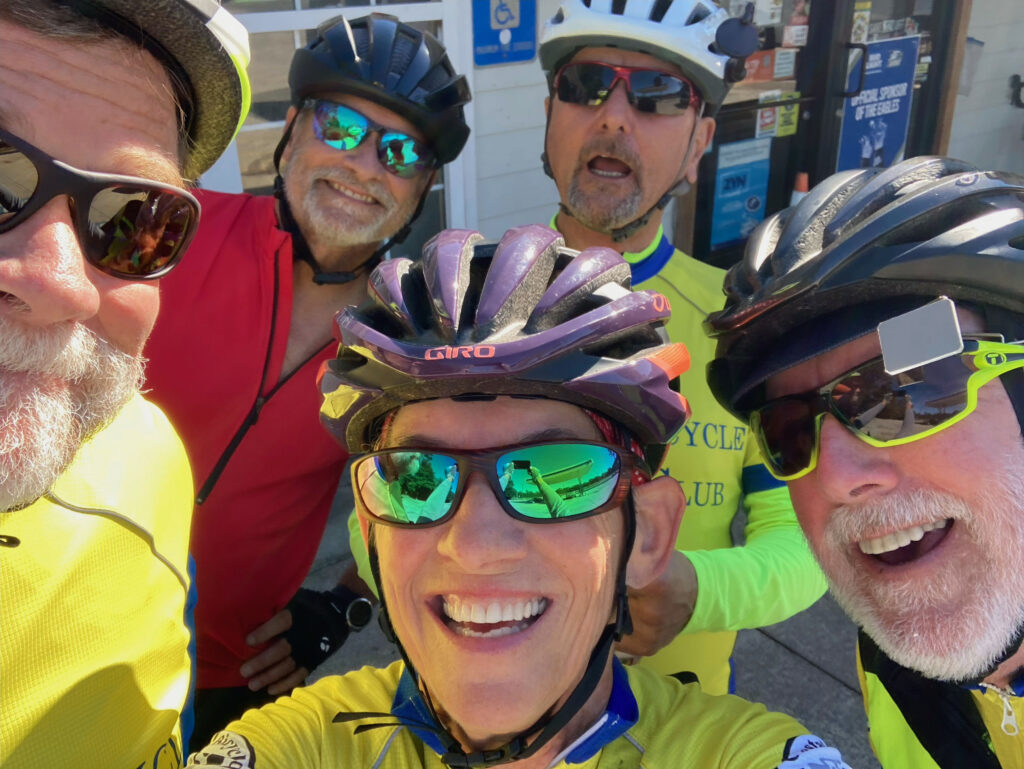 Come join us on one of the rides below. Note that we ask that you be able to ride a minimum of 12 mph, that you wear a helmet and that you bring a spare tube as well as tire changing tools with you. Most club rides currently meet up on Saturday mornings at 8:15 a.m. with roll-out at 8:30. During the cooler months, we meet around 8:45 a.m. for roll-out at 9:00. After the rides, we often join for a bite to eat at a local venue.
Note: If there is a ride cancelation due to inclement weather or previously unforeseen events, this website will be updated with the cancellation notice at least 1 1/2 hours before the start of the ride. There will also be an email sent to CBTC members.
All guests must sign a waiver prior to roll-out. The ride leader will bring the waiver (and is responsible for having guests sign the waiver). The waiver can be found here: CBTC Ride Waiver
UPCOMING RIDES
Saturday, Oct. 7, 9:00. Publix to Kilkenny Marina/Fancy Hall. Meet at Richmond Hill Publix, 12800 GA-144. Ride Leader, David Taylor, [email protected]. Post ride meal at Sunshine Breakfast Restaurant, 13150 GA-144. Cue sheets for 39 and 32 mile routes.
Saturday, Oct. 14, 9:00. Rincon. Meet at Macomber Park, 1103 Lexington Ave. Ride Leader, Donna Salisbury, [email protected]. Post ride meal at El Real, 105 Wisenbaker Rd. Cue sheets for 38 and 28 mile routes.
Saturday, Oct. 21, 9:00. Islands Ride. Meet at north end of Forsyth Park (Gaston and Bull). Ride Leader, Kim Turner, [email protected]. Post ride meal at Sly's Sliders, 1710 Abercorn St. Cue sheets for 40 and 32 mile routes.
Saturday, Oct. 28, 9:00. Harris Neck. Meet behind the McDonald's at Exit 67 and I95 (in Riceboro). Ride Leader: Roy Reynolds, [email protected]. Cue sheets for 41, 30 and 21 mile routes.
Sunday, Oct. 29. Intracoastal Waterway Ride in Cocoa Village, FL
Saturday, Nov. 4. Three Rivers Ride in St. Marys, GA.
Saturday, Nov. 11. Cruisin' in the Country in Claxton, GA.
Saturday, Nov. 18, 9:00. Skidaway. Meet in the back lot of Skidaway Island Methodist Church, 54 Diamond Causeway. Ride Leader: Deborah Wharff, [email protected]. Post ride meal at Your Pie, 7360 Skidaway Rd. 36 mile and shorter routes. (Cue sheets not available).
Saturday, Nov. 25, 9:00. Right Turn Clyde. Meet in the lot in front of the Berwick Kroger, 5720 Ogeechee Road. Ride Leader: Geoffrey Carson, [email protected]. Post ride meal at El Mariachi (in same complex as Kroger). Cue sheets for 34 and 29 mile routes.
TENTATIVE RIDE SCHEDULE FOR THE REMAINDER OF 2023
OTHER AREA RIDES
(Not sponsored by Coastal Bicycle Touring Club)
Sundays – Islands Ride
Roll-out from the Habersham YMCA at 9AM on Sundays. Approximate 30 mile ride around Burnside Island and Isle of Hope with brisk pace (19-21 mph) and some sprints (esp. along Ferguson, prior to rest stop at Jalepeno's.) Participants get together at the Coffee Deli in Habersham Village after the ride.
Tuesdays – Skidaway Ride
Roll-out from parking lot of Skidaway United Methodist Church at 9AM on Tuesdays. 34 mile ride around Skidaway Island. Usually 1 or 2 groups with varying speeds and some sprints.
Wednesdays-Isle of Hope Meander, aka No Sweat Wednesday
Roll-out from the Sentinent Bean, at the south end of Forsyth Park, Savannah, 9AM. Ride Lincoln St. to Bonaventure Cemetery, then to and through Thunderbolt before cruising to Isle of Hope for some crazy loops. Pace typically 15-18 mph, depending upon make-up of the group. There is usually a post-ride gathering at Coffee Deli or Yia Yia's Kitchen.
Thursdays – Hunter Army Air Field Ride
Roll-out from parking lot next to ball fields by Montgomery Street entrance of Hunter Army Air Field at 9AM on Thursdays. A permit from HAAF security staff at Montgomery Street entrance is required to enter base. (If you don't already possess a pass, it may be possible to request a day pass from the Montgomery Street security. Make sure you bring your driver's license). 20-40 mile ride around the base with 1 or 2 groups (based on speed). Participants meet at Sly's, corner Abercorn & 34th street, for sliders, fries and cool drinks following the ride.