Skidaway Ride, 21 January 2023
Very good turnout, as always it seems, for the Skidaway Ride. Weather was cool again but felt good once we got going, especially when the sun peeked out. It was a little breezy, but that worked for and against us. Your Pie was delicious, as usual, though I heard some grumblings about missing panini…
Liberty Trail Ride, 14 January 2023
Another chilly ride, though the sun was bright and warm. Our bigger concern at the start was the WIND! I should've taken a picture of the American flag at attention on the roadside signalling the challenge ahead. There were rumblings of a capitulation right from the get-go; however, more intrepid souls prevailed, and we sallied forth on the reverse-route to take advantage of the tremendous tail wind at the start and break the headwind up into segments on the way back. It worked like a charm, and we lived to tell the tale! Post-ride lunch at the Smokin' Pig was excellent, as always!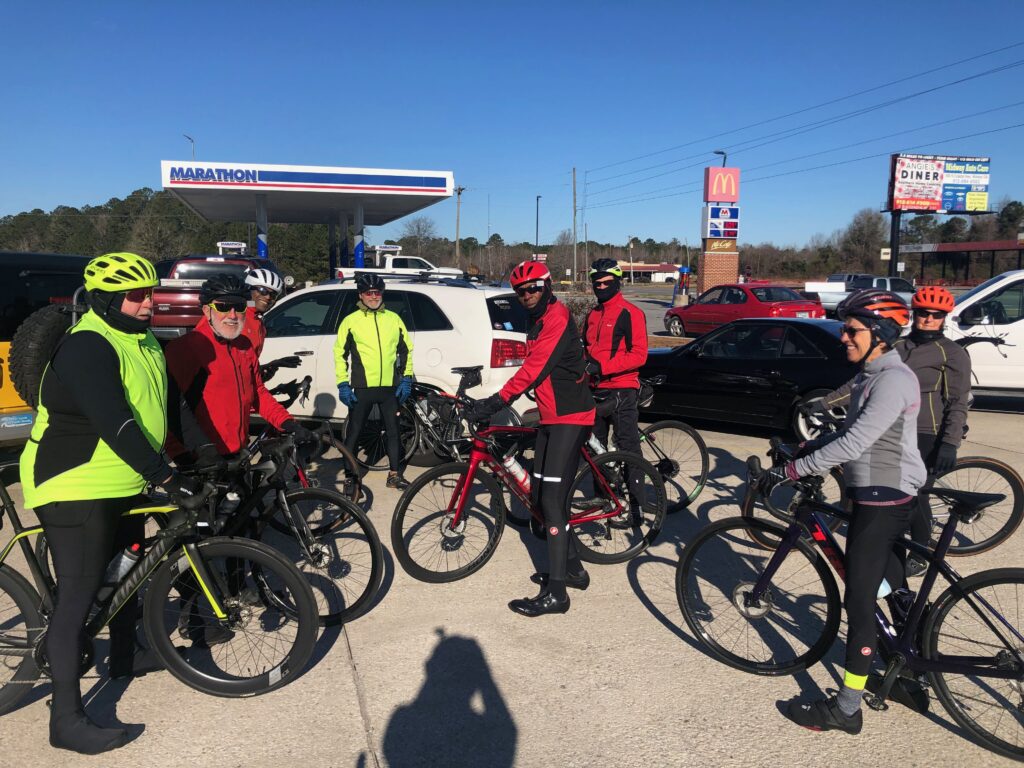 Ellabell Ride, 7 January 2023
Yes, this post is sinfully late!! I'm sorry! Great turnout for this ride, surprisingly, as temps started in the high 40s. Nevertheless Team CBTC was undeterred, and it really turned out to be a great ride. This is officially one of my favorite rides now, as it is a nice clean loop, and the roads are excellent, especially 41, which has been completely repaved and is smooth as glass for about 15 miles!! As I said, weather was absolutely gorgeous – sunny and cool, and we had a big A group over 10 people, so minimal pulls and maximal draft time. A great ride!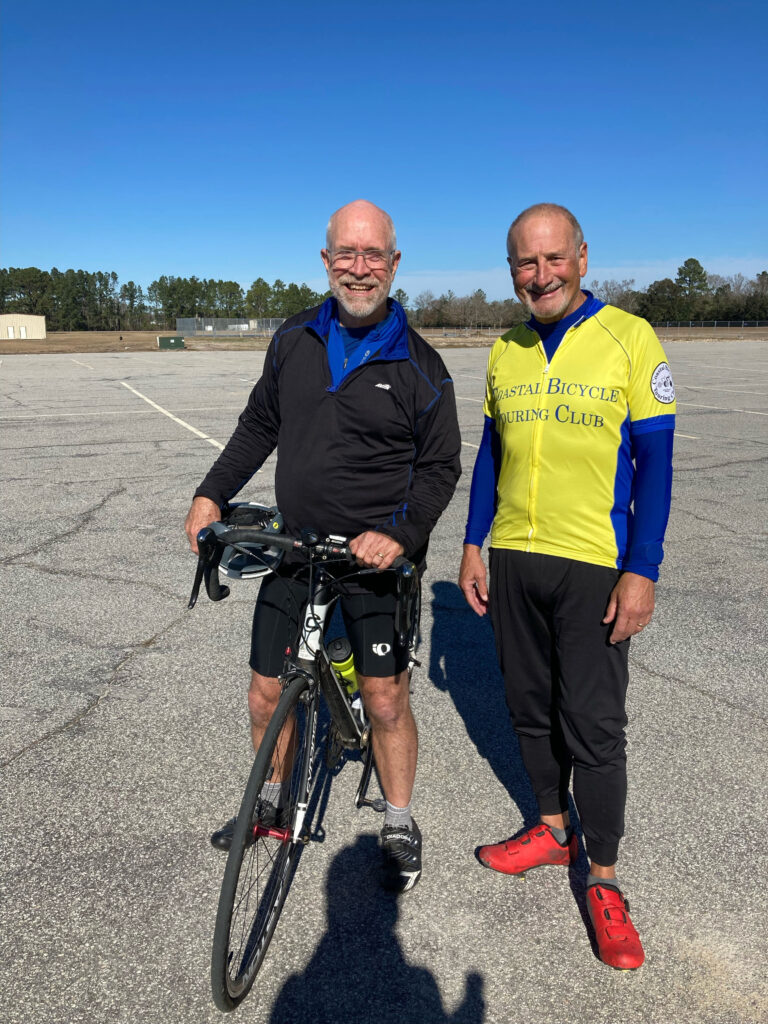 New Year's Eve Skidaway Ride, 31 December 2022
Pretty good turnout for the last ride of 2022 at the Landings. We were missing some regulars due to the holidays, but newsletter celebrity John J. turned up as did newcomer Jim. It was also great to see Cindi, Susan, and John B. after their hiatuses of late! It was a bit gray and drizzly and only seemed to become more so as the ride progressed, but the temperatures were comfortable and nothing brought down our Finish-the-Year-Right Spirit!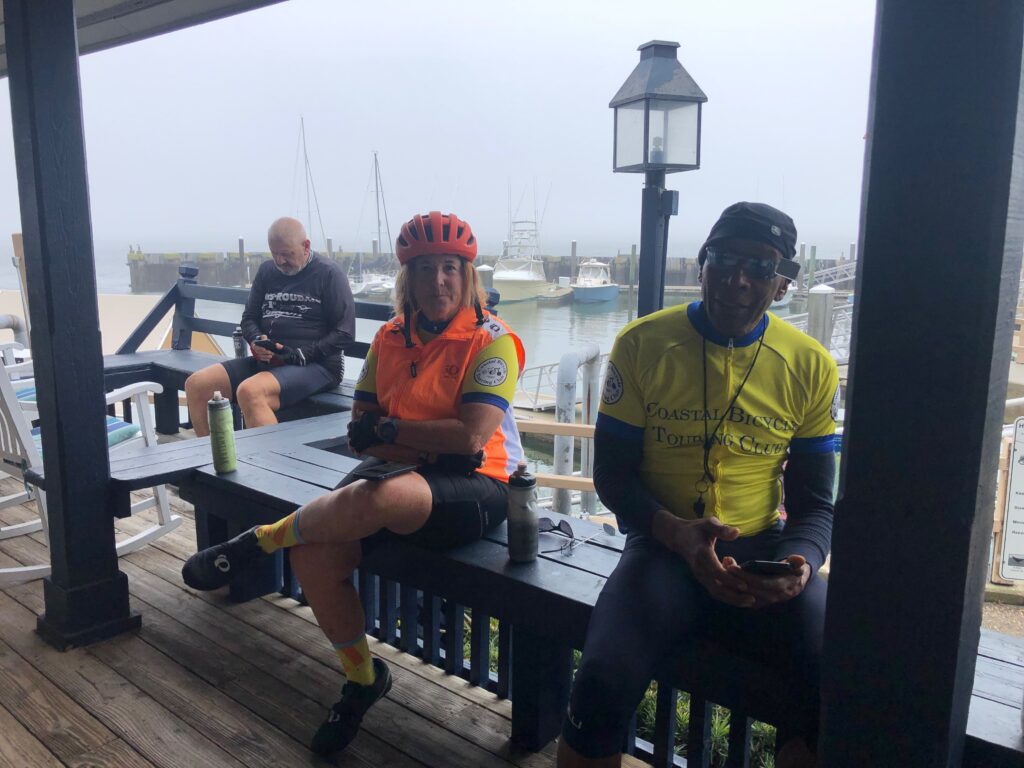 The Bean Ride, 3 December 2022
Great turnout on what looked to be a cold ride. Ride Leader Kim shifted this ride from Ellabell and pushed the start time back to 10 AM, and it couldn't have worked out better! Temps were up and comfortable and I got to sleep in! Really fun new course (some of it on the fly!) and just a good time had by all. Sly's lunch to polish it off, and that's never a bad thing!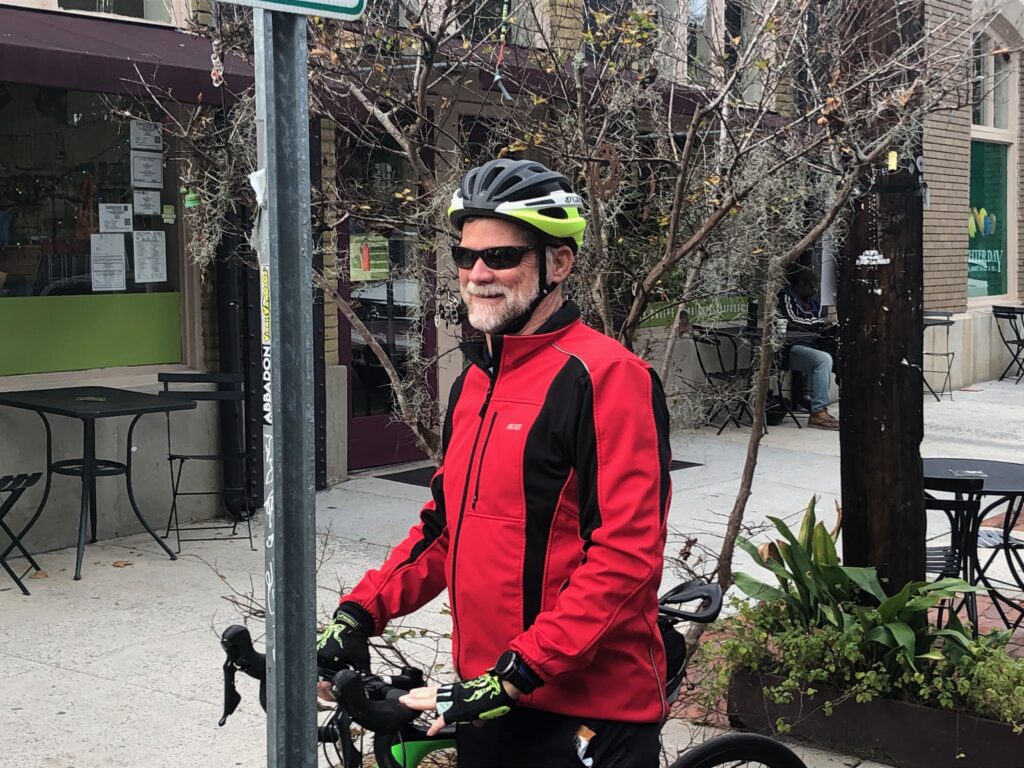 Mills Landing Ride, 3 December 2022
Not a huge turnout for this ride, but it had some of the best weather anyone could hope for in December: started slightly chilly, but it quickly warmed into the 70s with clear blue skies. Two ride groups covered 32 and 43 miles respectively. No lunch afterward because we didn't want to fight the Bridge Run crowd.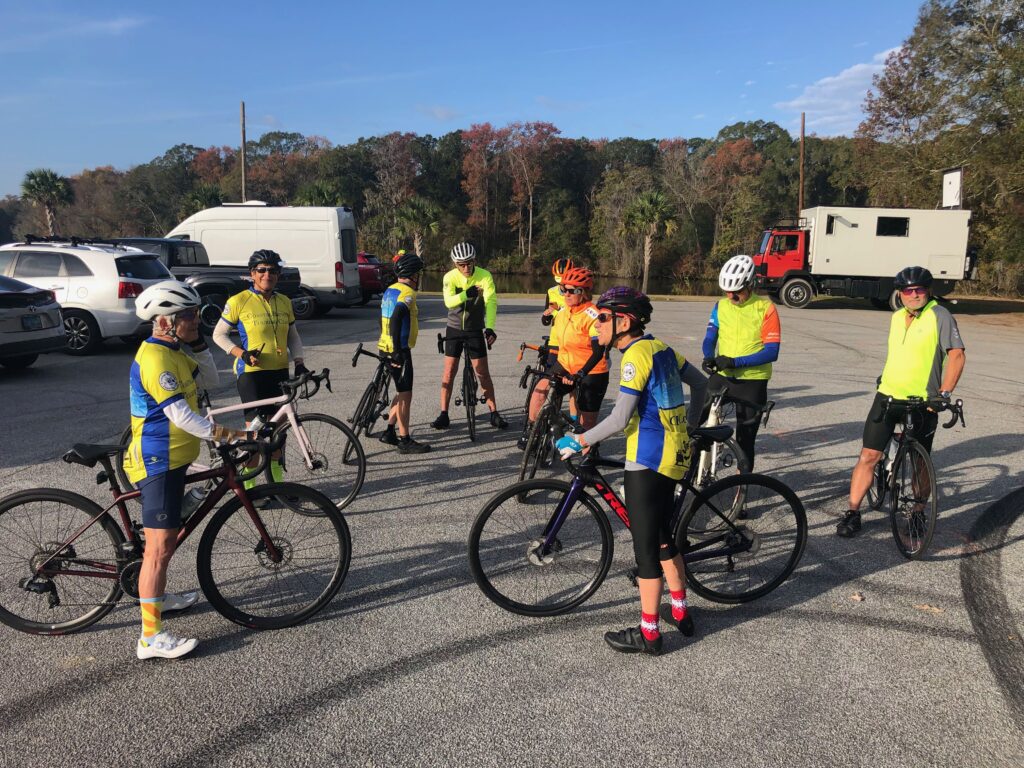 Islands Ride, 19 November 2022
Somehow, I seem to only make the cold rides!! This one actually didn't feel as cold as the forecast promised, especially when we hit patches of sunshine, but we were certainly all bundled up nevertheless (one of the few times I didn't get snide comments about being overdressed…). Nice, big group of riders at the start that eventually broke into two distance groups. Sly's lunch, as always, where Cathy R. reenacted last year's car warming rock technique!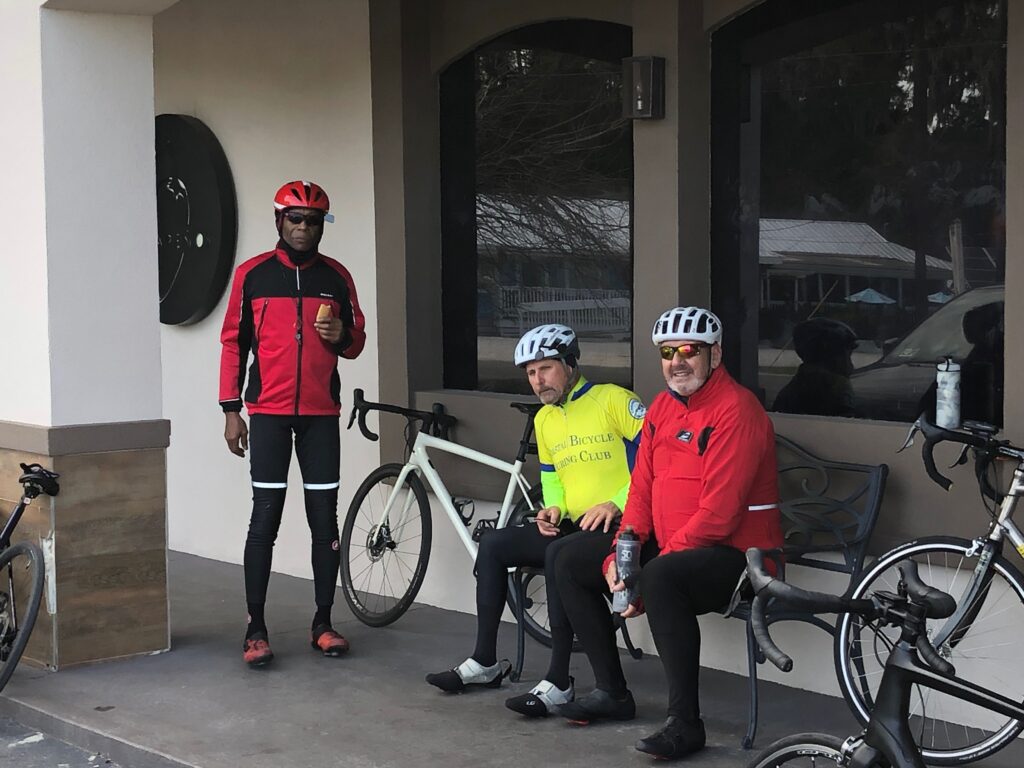 Cruisin' in the Country Ride, 12 November 2022
Once again no description of the ride, but it looks like everyone had fun. The weather certainly looks like it was nice – I'll be interested to hear if that infamous Claxton wind reared its ugly head! Nevertheless, always a fun ride with one of the friendliest hosts every year!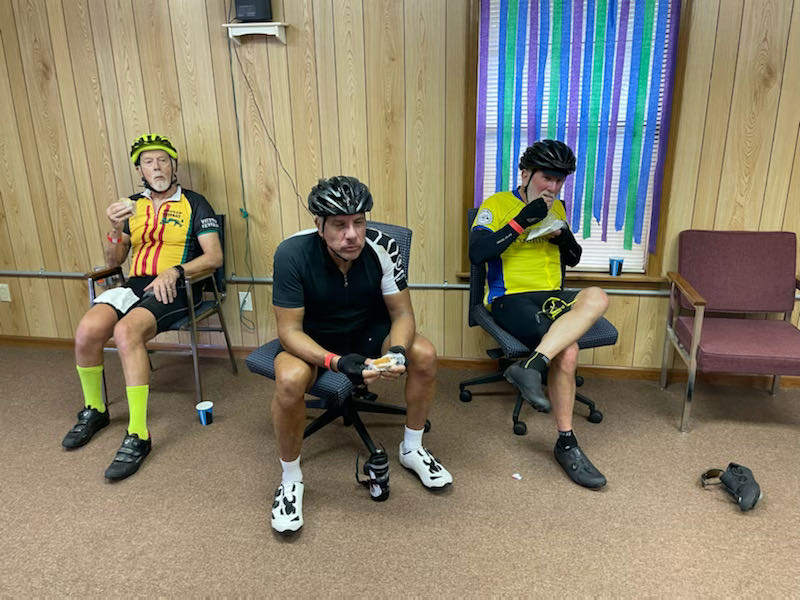 Three Rivers Ride, 5 November 2022
From John A.: [You] missed another great ride. 3 Rivers rive. Was warmer than Cocoa last week.
Harris Neck Ride, 22 October 2022
Ken showed up to see us off on a very chilly start! With temps hovering in the low 40s, the shady parts of this ride became a liability for us. Fortunately, temps somewhat quickly rose such that we were comfortable after the first rest stop and stripping clothes by the mid-way point. We only had one group turn out for what is always a beautiful ride through McIntosh County (with Chris S. jumping in and out). I was proud of everyone for persevering through the chilly start, but none more so than Eric, who went bare-legged the whole ride!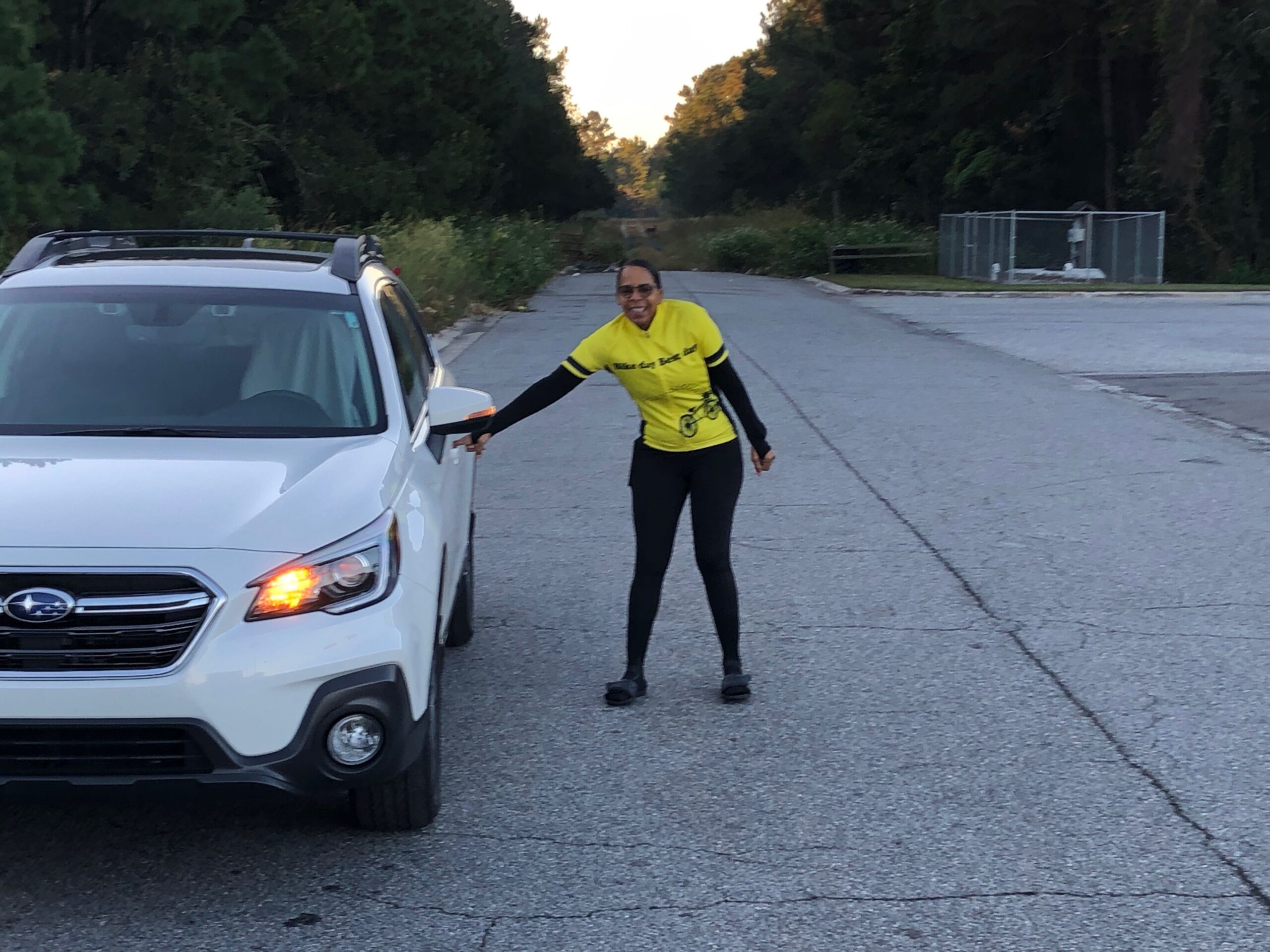 Ellabell Ride, 15 October 2022
Per Ride Leader Cathy R.: Report from today – started the Ellabell ride at our usual spot, Hendrix Park. It was great to see the progress they have made restoring the athletic facilities there, although there is much more to do. We had a small but MIGHTY single group – Eric, Richard, Amos, John, and Cathy. Weather was perfect. Cool, light wind and minimal traffic. Even learned that there is more grown out there than cotton – Georgia peanuts (thanks to Amos for that info.). Finished off the morning with a tasty lunch (of course since it was all fried) at Sandra's.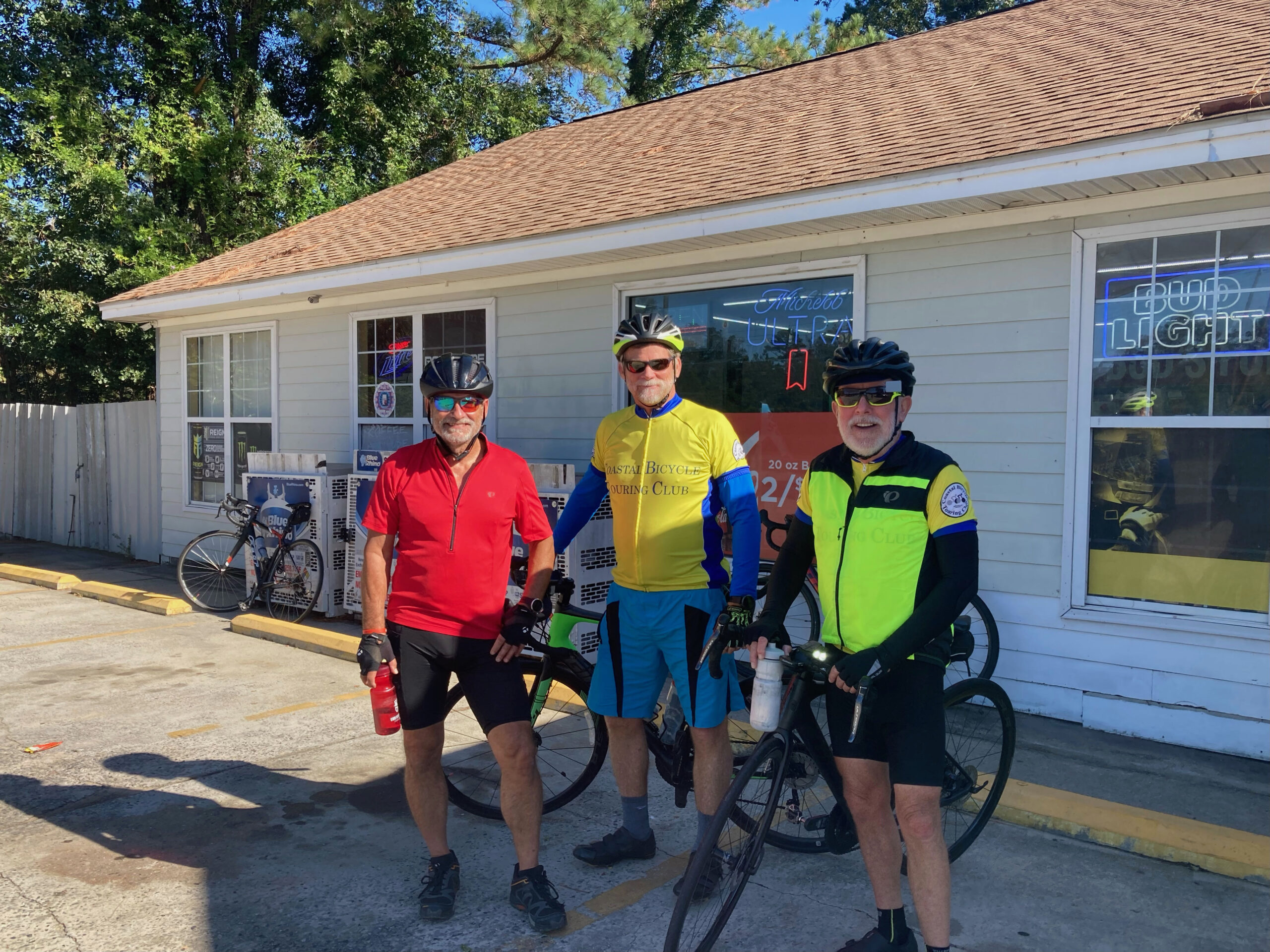 Liberty Trail Ride, 8 October 2022
Per Kathy S., a good group of around sixteen for Liberty Trail. I really like these pics from John and Kathy. No further descriptions, but I see some new faces out there!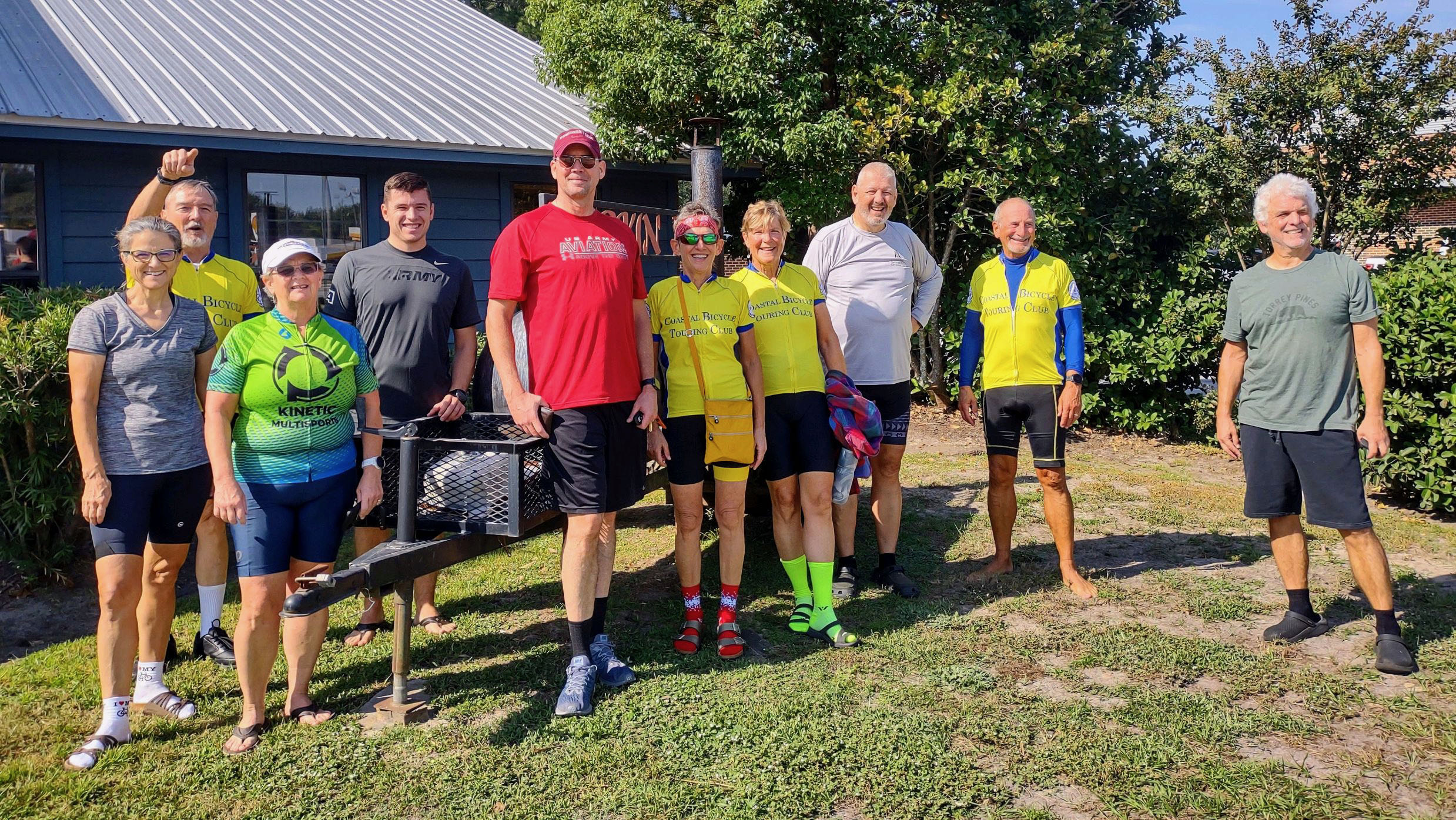 Right Turn Clyde Ride, 1 October 2022
Fall weather and an excellent turnout for this weekend's ride. We had two groups and welcomed the return of some old faces in Cathy, Bill, and Beverly! All photo credit goes to Kathy S. and Beverly because I left my phone behind by accident. Post-ride lunch at Mariachi!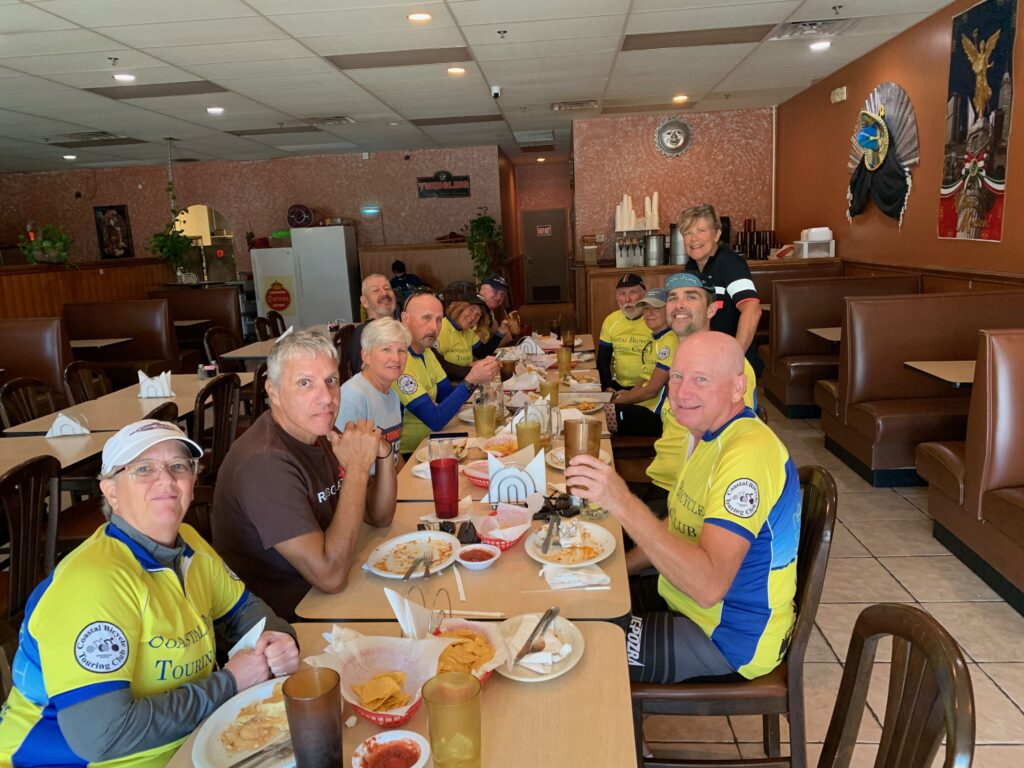 Hardeeville Ride, 24 September 2022
From John A.: Excellent ride today with 2 groups and perfect crisp fall temps at the beginning. John, from Florida on his way to Greenville, joined us, along with Aaron, a Marine pilot who just moved to Savannah. We also had Darrel, who was visiting Savannah for a few days. Unfortunately, Roy's pedal broke on the way out of the parking lot, and he was unable to enjoy the ride. Some enjoyed yet another fine lunch at Mellow Mushroom after the ride.
Forgot to mention Jonie joined the club and rode with us today. Also, Jackie set a record average speed riding with the "A" group (getting in shape for her upcoming cycling trip to Utah).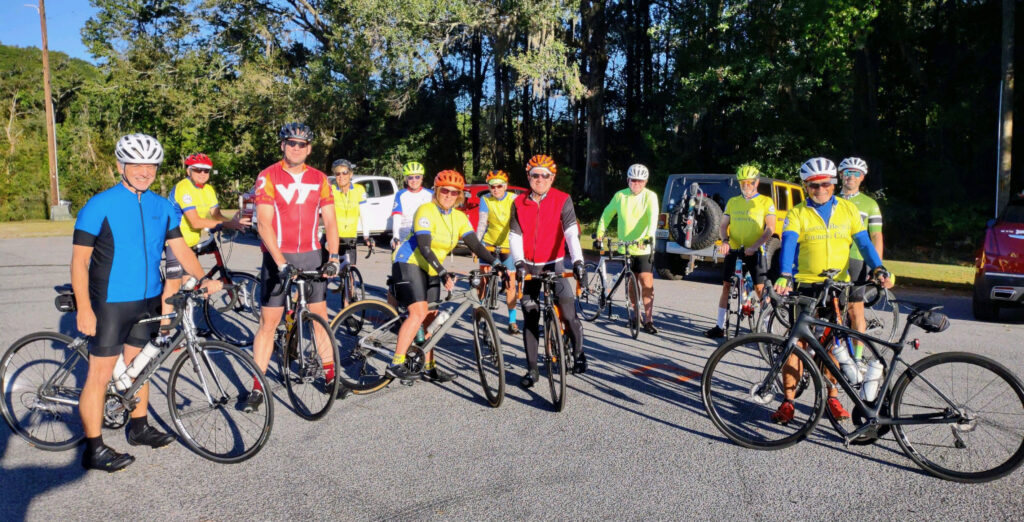 Kilkenny Ride, 17 September 2022
Great fall weather in Richmond Hill for this ride. Great turnout, including Amos and Craig. We had two groups (albeit a bit lopsided toward the long ride). We're really in the weather sweet spot these days, so I definitely encourage everyone to get out to the rides while the temps are mild and humidity is low. Wish I had gotten a pic of the ray I saw at the marina, but you'll just have to make due with our smiling faces, I suppose!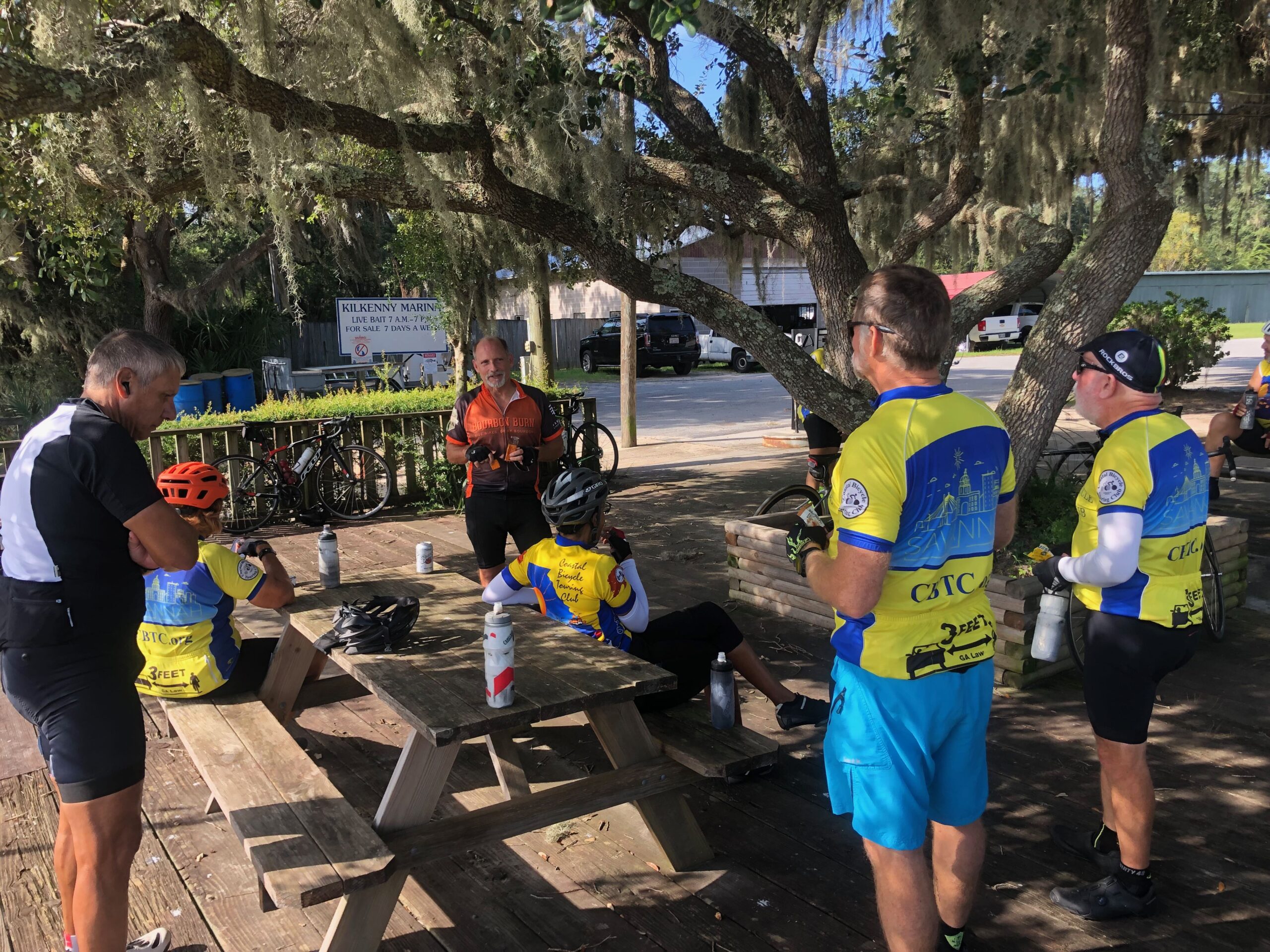 Rincon Ride, 3 September 2022
I finally made my long-anticipated return this weekend! Great ride in Rincon, though my sensors were acting up so I managed to lose the group at the start and biked about 12 miles solo to catch up to them. Fortunately, the Wharffs were in Springfield with their own technical malfunctions and I managed to reconnoitre with them and get a healthy dose of Deb pulling to get to the rest stop where we rejoined the convoy! Thanks, Deb and Rich! Everyone was in great spirits on the way back, and we enjoyed our typical fiesta at El Real afterward (Fajita Avocado FTW!).
Skidaway Ride, 27 August 2022
No update was provided on this ride other than that Susan made her triumphant return (hence the victory pose). Great turnout apparently!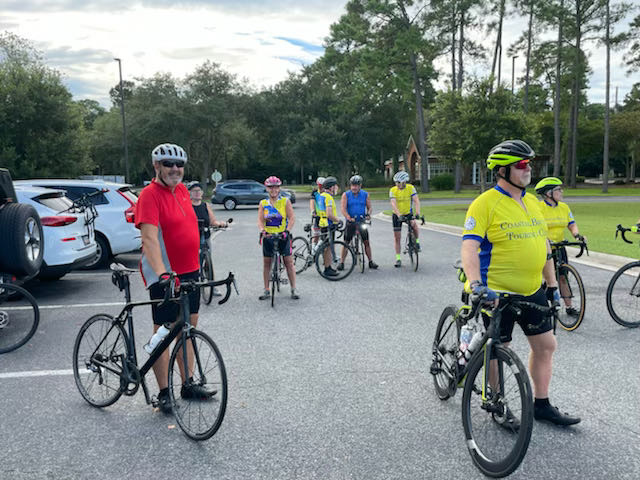 Harris Neck Ride, 6 August 2022
Phenomenally fun ride this past Saturday in too-long-neglected Harris Neck! By far one of my favorite rides for scenery and wildlife and, most importantly, minimal traffic! This edition began with a classic moment where I said it smelled like rain, Eric pointed to a visible shower to our left, and Marc advised us that, in fact, rain was NOT in the forecast – needless to say, it was a downpour within moments, and we were all soaked! We had a couple other small showers in that first half of the ride, but they were the pleasant mid-summer-cool-off kinds of showers and kept the August heat out of this ride completely. Everyone was dry by the rest stop, and the temps stayed oh-so-comforable for the remainder fo the journey. We did hear some good peals of thunder once we made it to the Wildlife Refuge (where we saw Wood Storks, Anhingas, Cormorants, and Egrets but no Alligators, for a change), so our group decided to cut the long ride short (still got 42 miles, though). Good turnout despite the commute – we had two ride groups, and I think that Chris D. led the Fun Group in a round of post-ride milkshakes!
Mills Landing Ride, 30 July 2022
Another great ride – if y'all haven't ridden Hardeville since we started the new route, it's high time you correct that mistake! Weather was a bit humid, I must say, but it never got uncomfortably hot (but it's definitely two-bottle season right now, David and I agreed). Speaking of David, he almost completed a whistle hat-trick in a single pull!! As it was, he and Tim combined to earn the Club's first Wall of Shame after consistently pushing above 21 mph – congratulations to you both!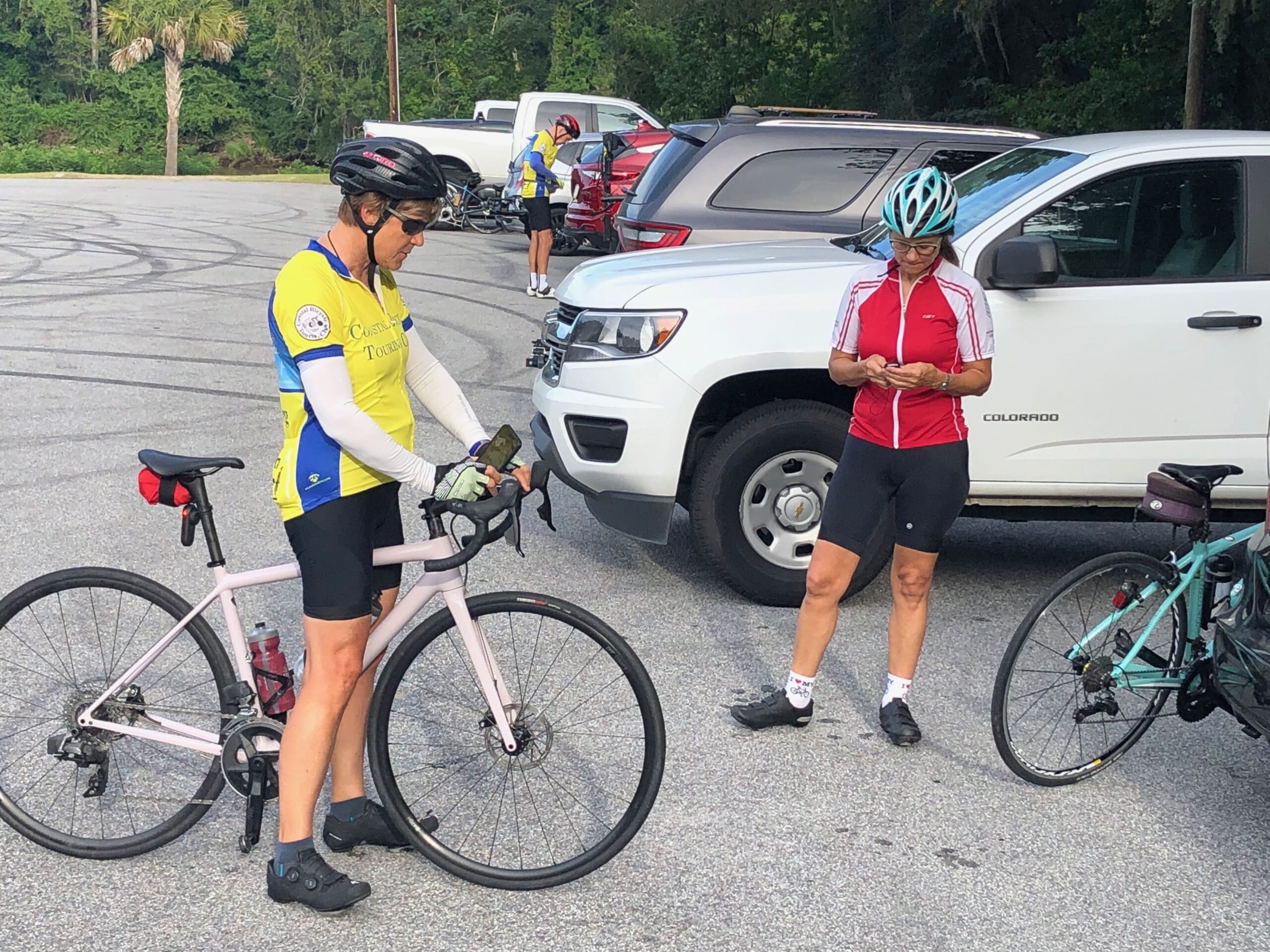 Kilkenny+ Ride, 23 July 2022
We've really lucked out with summer weather of late. Temps on this ride started in the mid 70s and edged to mid-80s on the ride, but it was very comfortable, especially as much of the route is shaded. I called this Kilkenny+ because the long ride added a Fancy Hall kicker to bring this baby up to 41.5 miles. For those of us who've ridden a bit sporadically of late, it was a gluteal challenge but a great ride nonetheless. We had an ample long group of nine and an intimate short ride of two. Lots of pictures from Kathy S., John A. and myself.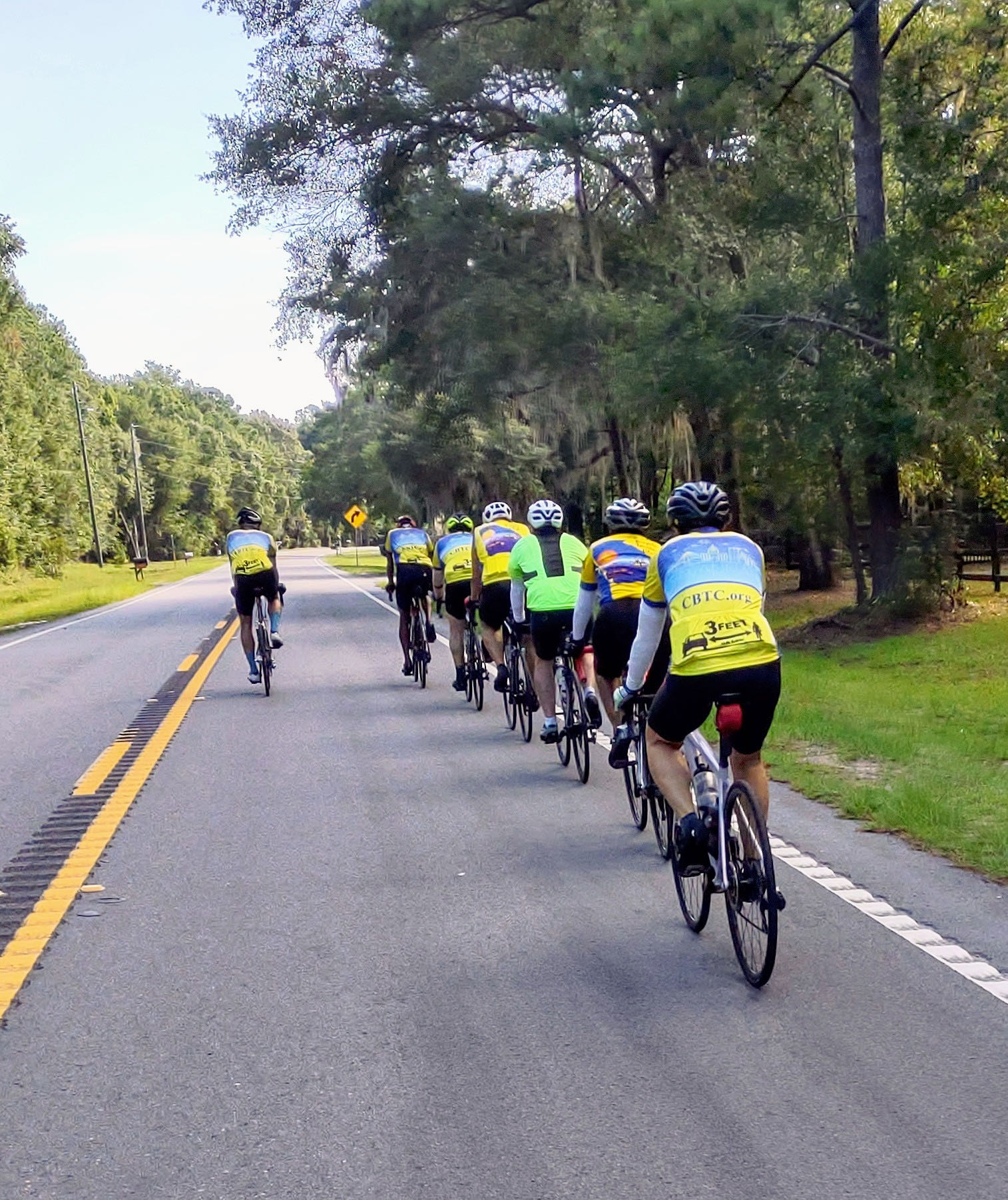 Rincon Ride, 16 July 2022
A great Rincon ride! We were missing a lot of the usual suspects in the fast group, but that gave us a somewhat more relaxed pace than we've had of late, which was refreshing. Speaking of refreshing, who'd have predicted mid-80s temps in south Georgia in the middle of July! It felt really great, especially as we had overcast skies for the vast majority of the ride. Jimmy D (aka James Dasher) pioneered a new start to our route, which all agreed was a vast improvement (must less traffic and newly-repaved and shaded roads). I worried we were going to lose some distance, but it is almost exactly the same as our original route. Kathy S. led the fun group, who ended up averaging 16.8 mph (to Roy's chagrin, apparently, but I think it was just a day to go faster). Sorry, but we only got pics at the start.
Liberty Trail Ride, 9 July 2022
Per John A: Good turnout for the Liberty Trail Ride. The A group got a late start due to 4-5 of us helping Tim mount his wheel after changing a flat. Two groups eventually broke up in to three on the way back. "A" group had a fast finish thanks to teh Taylor half-mile pull technique. Great lunch after the ride at Smokin' Pig.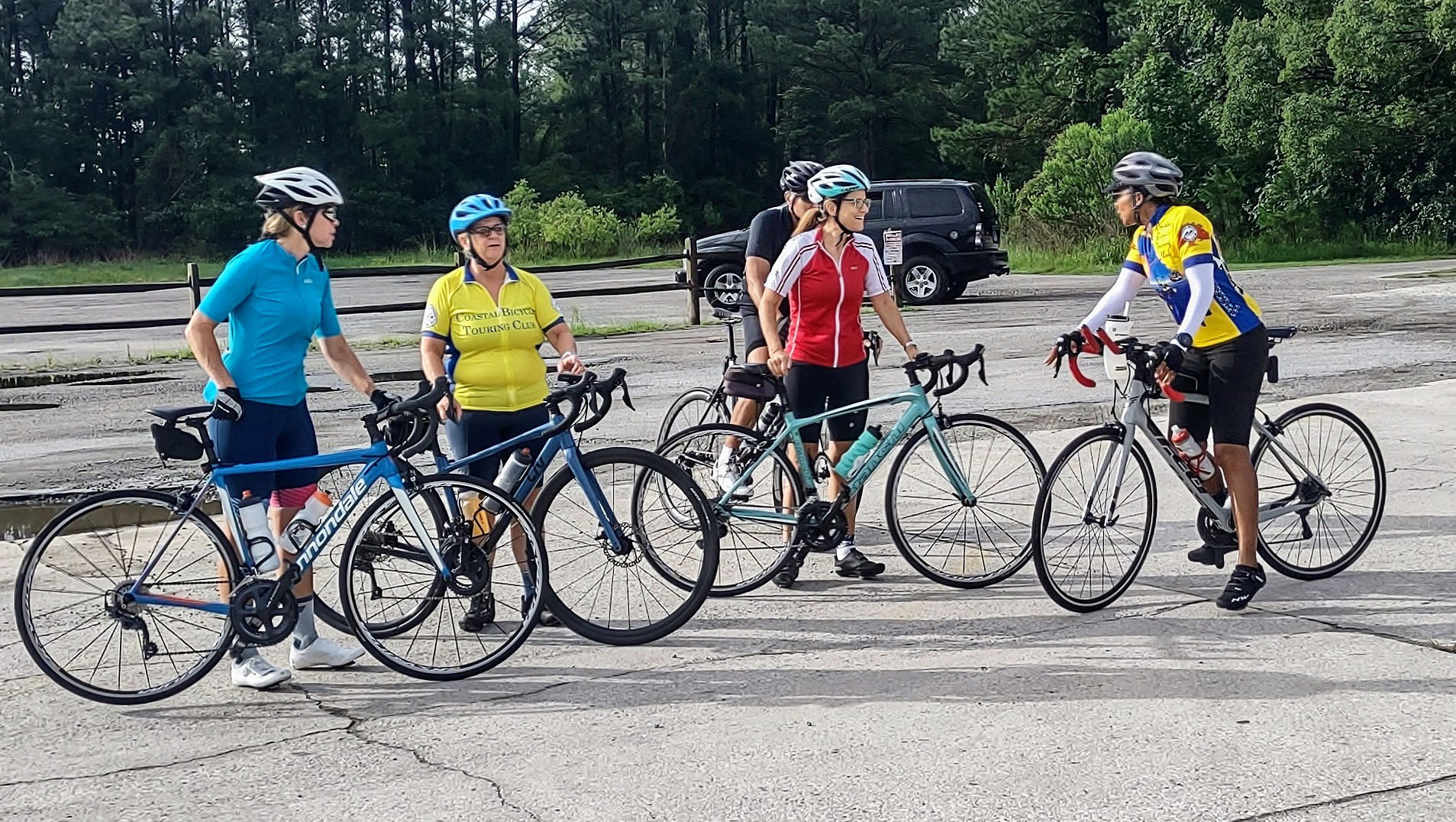 Skidaway Island Ride, 2 July 2022
I'm paraphrasing John A here, but: Good turnout for the Skidaway Island ride on July 2nd. Pam Pierce led the fun ride for new and returning riders, and Cathy Reiman, on a break from the cool temps of Maine, led the too-serious group. You know where John's head was because he only sent in pictures of the post-ride lunch at Your Pie in Sandfly.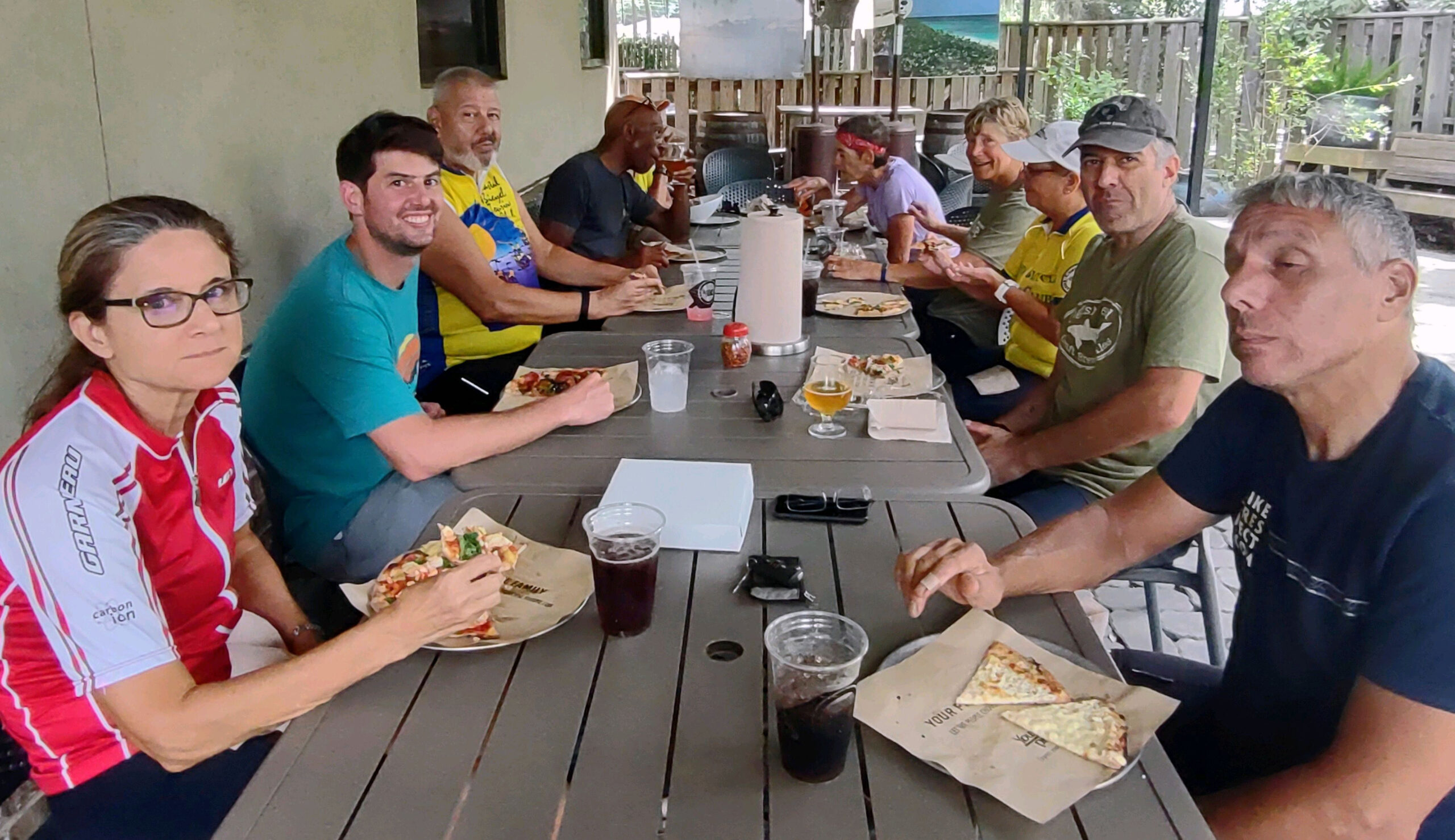 Millstone Landing Ride, 25 June 2022
Great turnout in Hardeeville this week. Weather was warm but pleasant. This is a great summer route, as there is a lot of shade along the way. It was my first time on this revised ride (formerly the Hospital Ride), and I think it is much improved from the old version – we cut out the old pothole mile through town and found a way to avoid the busy highway. We need to find a lunch place to follow this ride, so everyone start researching restaurants!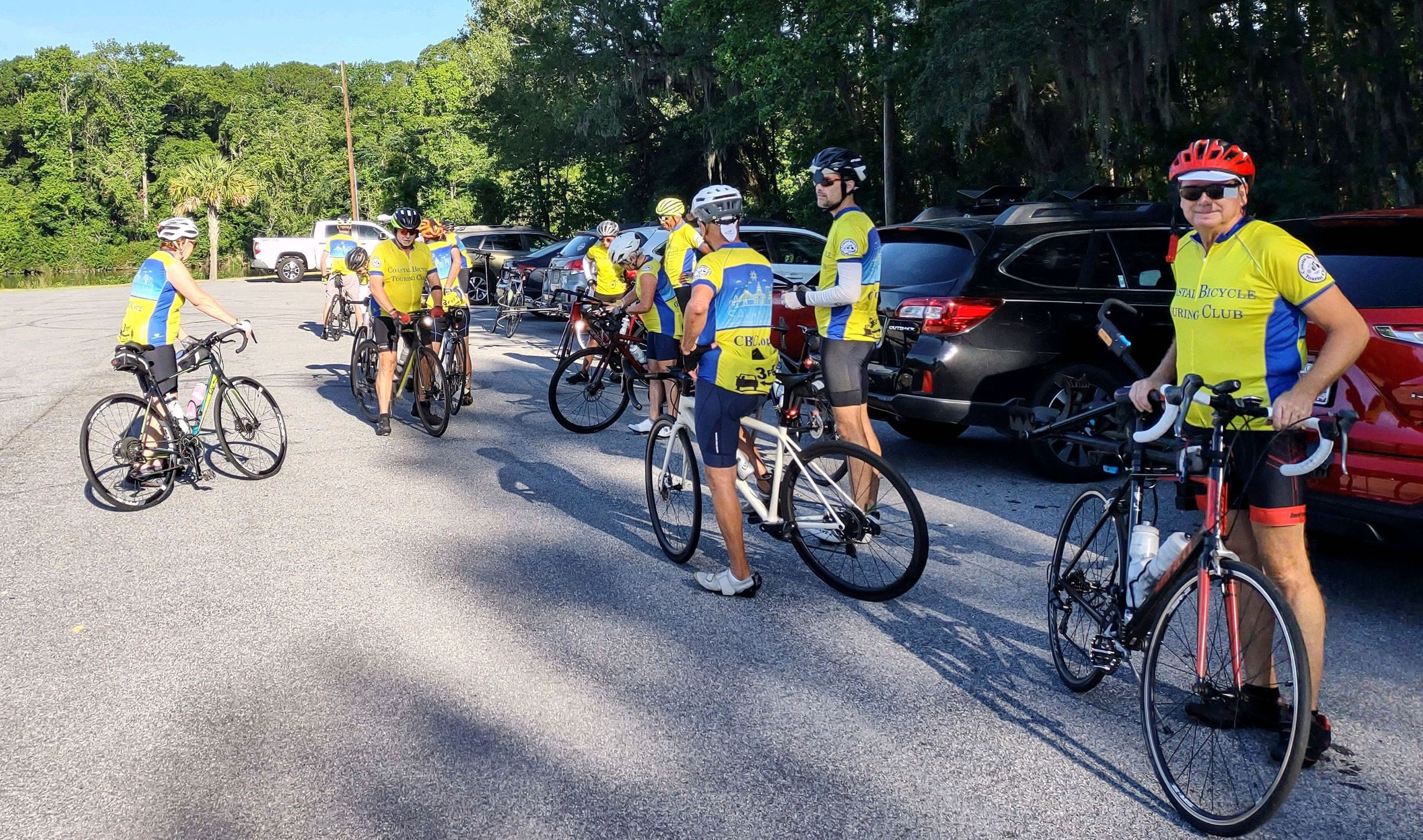 Islands Ride, 18 June 2022
John A.: What can I say about the ride? Well, it was kind of a small group, but we had 2 visitors from Atlanta join us. It was also pretty hot, but as you know there is a lot of shade along the way. We had a fine lunch at Sly's after the ride.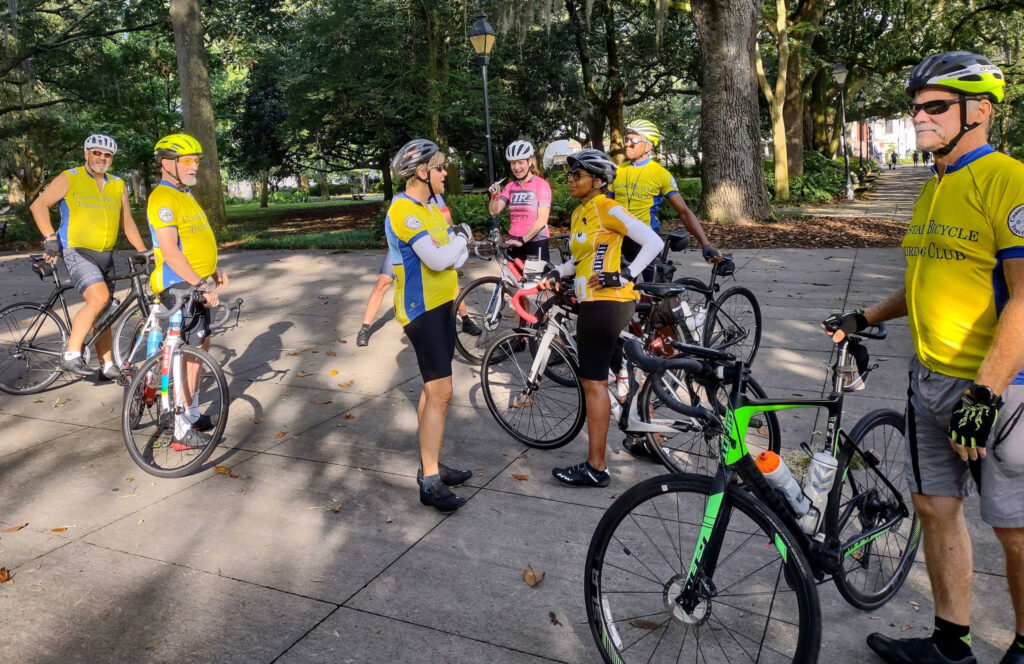 Right Turn Clyde Ride, 11 June 2022
I led this ride on what felt at the start like a sauna of day; however, once we got rolling the temps felt fine (evaporative cooling in 110% humidity, I suppose). Note the very large turnout, undoubtedly a result of the ride leader's charisma. Of note on this ride was that Hwy 17 appeared to have actually been cleaned; however, Little Neck is still an obstacle course of potholes. We had some new riders come out as well as some irregular members. Great time with lunch at Mariachi's (huevos con chorizo con cerveza grande para la victoria)!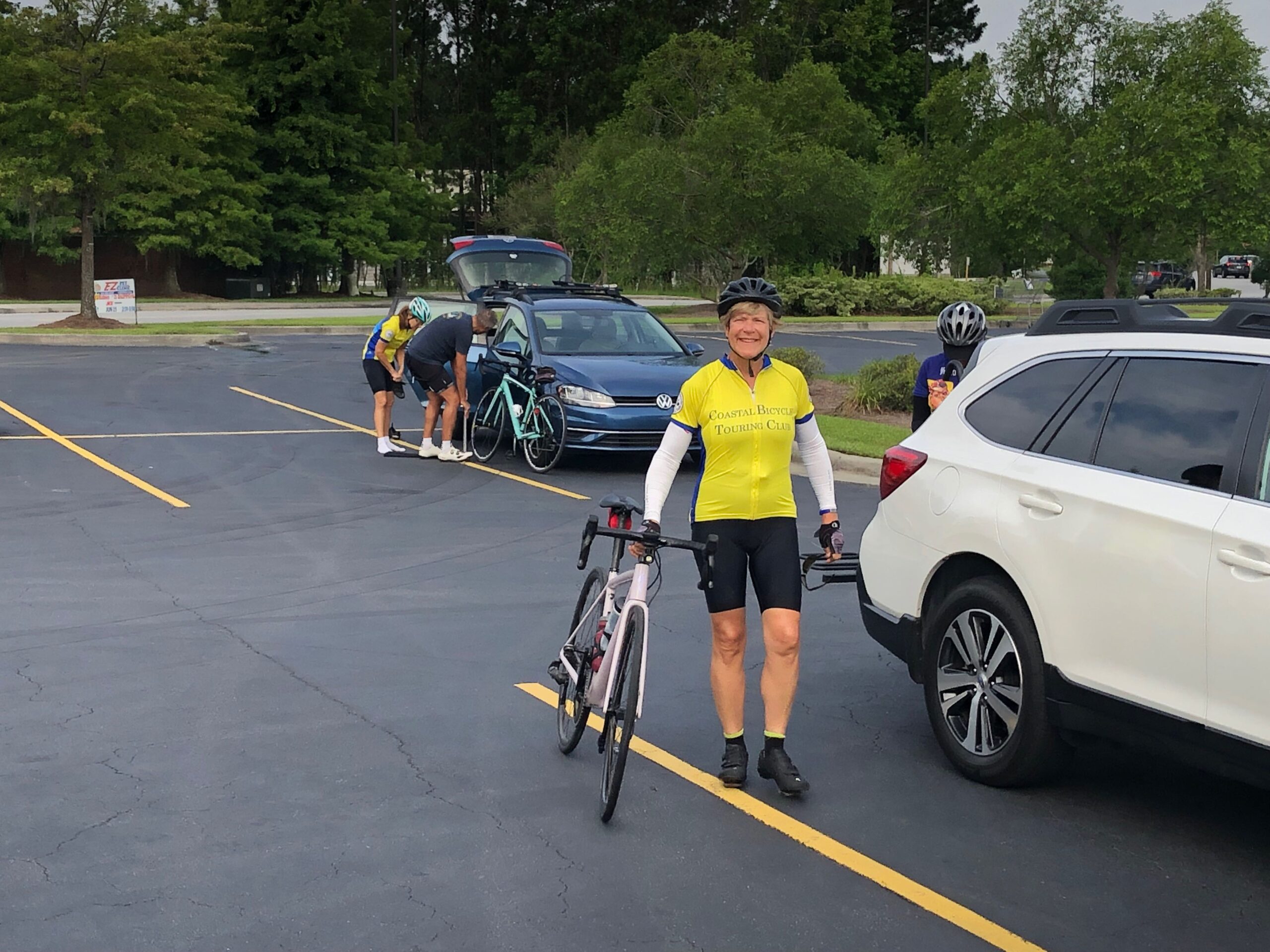 Ellabell Ride, 4 June 2022
Fresh start for Ride News, CBTCers! After feedback from the Club non-Facebookers (myself included), I am re-starting the Ride News updates. Rejoice! I'm also archiving the old news and will likely keep this page current to the last five or so rides.
Ellabell was a joy as always, though I think we were all surprised at the extent of the tornado damage up there. Hendrix Park, our starting point, has basically been obliterated – the main building in particular was ravaged, as was the neighborhood next door. I don't think a single tree remains standing. It was a somber scene but the Ellabellians look to be resiliently building back. We had a very nice ride with great temps and ate at Sandra's Seafood afterward.