Ghost Tour and Social 10/25/14
Rincon Ride 9/27/14
We changed the ride calendar at the last minute to the Rincon Ride in honor of long time member Ed Jewell. Most of us were still reeling from the news of his death. As we met in the parking lot much of the conversation was about Ed. The ride started off with a slight chill in the air (at least by Savannah standards) due to the mist. As we hit the road the mist increased to a light rain making conditions questionable. Luckily a few miles later the rain cleared and we had a great ride. Ed will be missed. The sharing of his story will continue.
A little 'Fly By' Video
Silver Comet Pictures 8/24/14
Here is a link to a ZIP file containing all of the 2014 Comet pictures. Thanks to Karen and Ken for contributing as well! This is a large file, over 300MB. A picture gallery will be uploaded later.
Weekly Ride – Knowles Island Ride 8/9/14
We had a lot of fun this week but unfortunately we had two flats from two different riders at the same time.  Here is a message from our Secretary, Jack Knops:
During the Knowles Island Ride two people had a gash plus flat in their rear tire. Both were riding on Gatorskins. Both rode over glass, most likely from a beer bottle tossed out of a car. Total damage for two riders: $ 120,- The irony is that both riders had chosen to ride on the three foot wide strip to the right of the white line that newly surfaced state/federal roads typically have in South Carolina . While it is undoubtedly safer to ride on that strip rather than the road itself, it becomes too expensive when that strip is not regularly swept by the various street departments.
Gatorskins are great tires but even they cant tackle broken glass. Consider this when riding on the shoulders.
(click the picture for the full size version)
Weekly Ride – 'Right Turn Clyde' 8/2/14
Even though the forecast called for rain and storm clouds threatened the entire ride, we had a fun pleasant dry morning.  Twenty-two riders showed up to tackle the new 'Right Turn Clyde' ride, including two new strong riders, Suzanne and Kenny,…welcome. No flats or mechanical problems today! There were a few smaller incidents. We accidentally left Ed J. at the rest stop bathroom (Sorry Ed!) and John B left a a water bottle at the second rest stop. Luckily Javier grabbed the bottle for him but we aren't sure if it ever made it back to John. Yes, the ride was so uneventful that the only problem was the water bottle. John, what was in that bottle?
Thanks everyone for making this a fun, safe ride!
(click pictures for the large version)
Weekly Ride – Liberty Trail 7/13/14
Saturday was a wash (literally) so this became a Sunday ride. The roads were damp but our spirits were high and dry. A great time was had by all. We had a guest from North Georgia join us on the ride. He wasn't used to such flat terrain!
Weekly Ride – Coffee Bean 7/5/14
We had a great ride today! John Arney led the B group and John Gerardi led the C group. Even though the heat crept in later in the ride everyone made it safely. No flats or break downs! There were a few interesting moments. Someone decided to adjust Arney's chain slightly during the first break at Kroger (knocked over his bike). And there was a wheel bump incident. The guilty shall remain nameless but there is evidence of the chain incident: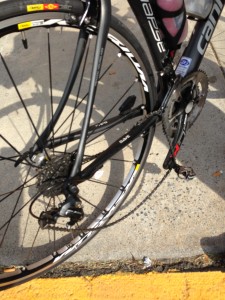 Is it me or does Ken look like he is riding a Harley?
The Peloton on Pine Barren. A very welcome shady spot.
The final rest stop provided another photo opportunity. Happy faces!
See you all next week!