Bicycles or Bicycle Parts For Sale or Wanted
Send me your information and I will post it here:
 John Gerardi
johngerardi@hotmail.com
Posted 11/22/16
 —Trailer Hitch-Class I Receiver Rear Hidden Hitch 60886 fits 08-11 Ford Focus 
Used only 3 years $115 OBO
Contact:EDDUNN@AOL.COM
Posted 12/8/16
Two 2007 Giant OCR C1 bicycles fior sale. The color is red.  One is a small frame and the other is a medium frame. Both are in mint condition and have been serviced regularly by Quality Bike Shop. Both have wireless computers.
The Bicycle Blue Book lists the price at $650.00 without computers.  We will take $500.00 each (which includes the computers).  We would like to sell them together, but will accept individual offers.
David and Mona Fuchs 912-598-5376
Posted 5/10/2017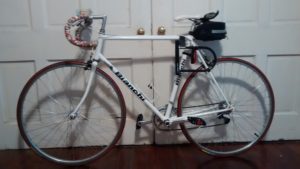 1970s Bianchi 12-SPD road bike. Fully restored, professionally painted, factory decals. New chain, cables, brakes, cables, Campagnolo front derailleur, Cinelli handlebars and tape, leather Sella Italia seat, Kryptonite U-lock and wheel and seat post locks, new wheels w/Kevlar Michelins, halogen headlight, LED tail light, trunk bag, not a scratch. Over $2000 in parts in restoration. Will sell before end of May for $550. After that, will keep bike
Lance 843 227 6223.